IUSD Students Sweep Speech Contest in each Category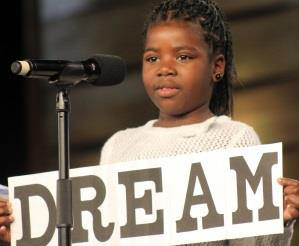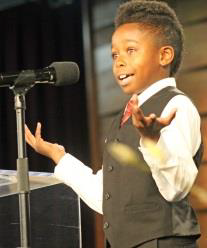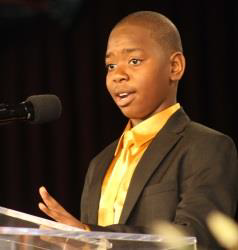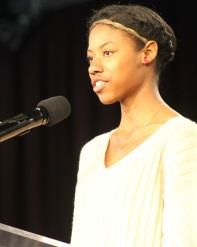 2016 Dr. Martin Luther King, Jr. Speech Contest winners from left to right: K-2 category – Neveah Bell, Oak Street Elementary School, 3-5 category – Shawn Pringle, Bennett Kew Elementary School, 6-8 category – Tristan Castillo, Monroe Middle School, 9-12 category – Kapri Washington, City Honors High School
(Inglewood, CA. . .). . . Inglewood students, parents, staff, and community gathered for a day of celebration in remembrance of the Life and Legacy of Dr. Martin Luther King, Jr. Attendees began the day early to attend Ecumenical Services at Faithful Central where the winners of this year's speech contest reminded us all why we should 'Dream with a Vision, Live with a Purpose.' One-by-one, IUSD students swept each category winning the elementary, middle, and high school divisions.
"It gave the entire IUSD community great pride to listen to the all four winners of the speech contest," expressed State Administrator Dr. Vincent Matthews. "Each student told us how Martin Luther King, Jr.'s dream has inspired their lives and shared their hopes and dreams for the future. They also challenged us to do more in helping others. I could not be more proud of them or more inspired by their words. "
Each winner was presented with an award and a check from the City of Inglewood. Rounding out the morning with music and presentations from Grand Marshals Actress Laya DeLeon Hayes, voice of Disney's Doc McStuffins and Olympic Gold Medalist Althea Moses, the audience was treated to a special appearance by the Legendary Stevie Wonder.
A historical march reminiscent of days past immediately followed heading down Eucalyptus Avenue, east on Manchester Boulevard, and culminating at the Forum with live music, food, and give-a-ways.
# # #